Data
Historical French Agricultural Data of the 19th Century
In the 19th century, the French government set out to build up a complete picture of French agriculture through agricultural surveys. These surveys differed from previous attempts in the wealth of information available and in the unified methodology used to carry them out. To date, only the 1852 agricultural survey has been digitized in its entirety. The aim of this project is to systematically collect the information contained in the agricultural surveys of 1862, 1882 and 1892, and make it available to researchers.
In progress...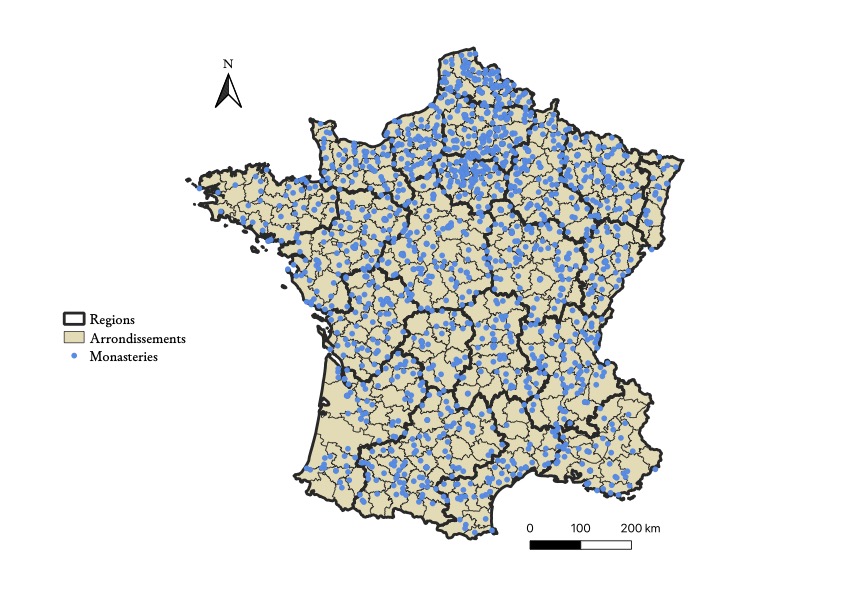 French Monastic Incomes in 1768
I constructed a new database giving the income of more than 1,500 French monasteries in 1768. Data come from two primary sources: the Almanach Royal (1768) and the France Ecclésiastique (1768). I also used one secondary source: Abbayes, Prieurés et Couvents d'Hommes en France. Liste Générale d'après la Commission des Réguliers en 1768 by Lecestre (1902). Monasteries are geolocated. I also collected other related information such as the monastic order.
Available upon request

Number of Judges per capita (1970-2014)
With Adam Levai and Michèle Schmiegelow, I constructed a new database giving the number of professional judges per 100,000 inhabitants in 105 countries between 1970 and 2014. Data come from various public institutions, such as: United Nations Office in Vienna (UNOV), the Commission Européenne pour l'Efficacité de la Justice (CEPEJ), the United Nations Office on Drugs and Crime (UNODC), the Organization of American States (OAS), and the European Statistical Office (Eurostat).
Available upon request